X-Vision Loves To See Hunting Couples Bond In The Outdoors!
Ben and Ana
When the pandemic first hit in early 2020, my fiancé Ben and I were fortunate enough to retreat to his family cabin nestled in the remote woods of Northern Minnesota. As an avid outdoors couple, we were elated to leave the chaos of the city. We settled into the wilderness to work remotely while we waited for things to settle down back home. Many hunting couples don't have this opportunity!
Benjamin is an experienced hunter, and myself, an experienced angler, and over time we've found a wonderful common ground to enjoy each other's favorite activities as a couple and learn from each other. However, with this new temporary living situation in a hunting dreamland location of opportunity, presented us with a whole new level of enjoying the outdoors together.
What I took away from our time there together in the woods was nothing short of special. One of our first outing was an early Spring turkey hunt which was a first for me. Side by side, we hiked over 40 miles of remote backwoods. We explored new trails and places we'd always talked about going but never had the time to. No phones, no outside world noise, just us, the fresh air and heighted senses as we pursued the same goal.
I've known Ben for more of my life than not. In that experience, I got to see an entirely new side of him that I'd yet to discover. His typical lively demeanor transformed into this ultra calm, focused, patient teacher who was eager to help guide me through the whole experience. Even after all the years of intimately knowing him, I met an entirely new part of Ben those few weeks. Even though we came out empty handed, that rare, uninterrupted time together allowed me to appreciate the partner that he is on an even deeper level – much more valuable than shooting a big tom!

Krysten and Trevor
One of my favorite outdoor couples and friends Krysten Potega and fiancé Trevor Hinz can relate to similar feeling of extra bonding when out hunting together. Krysten writes: "Hunting together has meant so much to the both of us! Spending time together outdoors has produced some of our most cherished memories. Whether we're getting up at the crack of dawn to chase gobblers, or targeting a rutting buck, we seem to always come away with so many memories even if we come home empty handed. To be honest, I think some of our deepest conversations have happened in the woods. I've noticed we are both much more present with one another, which produces those really deep heart felt conversations."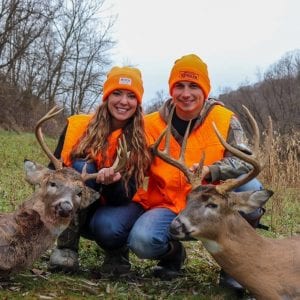 Ashley and John
Close friends Ashley Holmgren and her husband John speak similarly about how hunting brought them  together. Ashley writes: "John and I both grew up in families that loved to hunt and fish at an early age. We tagged along on these big adventures with our families and gained an appreciation for the outdoors. The first time we met, we were working, and I was heading to the bow stand to deer hunt alone. John says that after hearing that it was love at first sight!
When you're a hunter, you respect the love of the sport and hope to find someone that shares similar values. It was important to us as a couple to share that love together.  Now after 10 years, we have hunted in the ground blind, the deer stand, fields and woods together and we have shared so many memories together that only hunting can bring!"
We're lucky to have two daughters that we made sure to instill the love of the outdoors at an early age. They love to come along hunting and fishing and anything else we do as a family.  It's the most rewarding feeling passing it on to the next generation. We hope that they too can start a family someday based on the fundamentals and passion for the outdoors."